BOWLS OIL LAMPS
Glass and Wood Fusion Series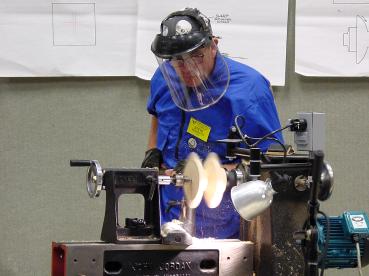 Photo by Larry Mart
My name is Steve Worcester, and my studio is in Plano,TX.
While I do all sorts of woodturning, I have been woodturning since 1994 and have gone through many phases. I did square turning and wrote several articles on my techniques. After taking a class from David Ellsworth and advisories from Trent Bosch, hollow turning has been a major direction and force of my work. I am consumed by my Fusion series of hollow vessels combined with kiln formed glass. Often, the glass takes the form of a diamond on top of the form to break the infinite swirl of the circle. I like it mostly because it shouldn't be there, it breaks the rules. Just like many of my current forms are airbrushed patterns (polka dots) on top of wood. The patterns are translucent and act as little windows to the wood beneath, each a porthole to the woods inner soul. The pieces are generally smaller, under 6" and are meant to be held and studied.
(if you have a gallery and are interested in representing me, please email me.)
I have been fortunate enough this year to do many demonstrations of my work, notably, at the American Association of Woodturners National Symposiums in St. Paul Minnesota, and Providence, Rhode Island as well as the Texas Turn or Two Symposiums, and many local clubs. In 2011, once again I will demonstrate at a national level, I sure home you can come and watch and learn. I can humbly say, you may never have attended a demo quite like it. I love to engage the audience in the process and I do have a bit of an obscure sense of humor (I have been told that is an understatement).
If you are interested in having me demonstrate for your symposium or organization, please feel free to email me at Steve@turningwood.com , all rates are negotiable.